Australian Internet Loans
:: News
Gen Zs Financial Concerns Outweigh Other Generations
Gen Zs Financial Concerns Outweigh Other Generations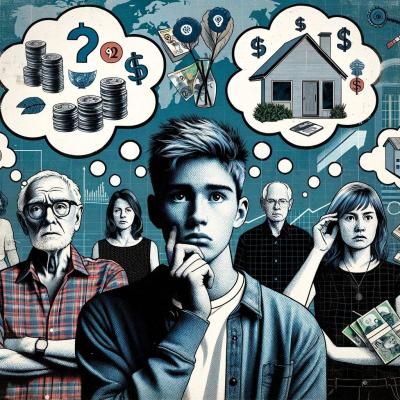 Financial matters are causing significant worry among Gen Z individuals, with a staggering 68% feeling the pressure according to the recent research findings by ASIC's Moneysmart program, surpassing the concerns of any other age group.
This release coincides with the introduction of a fresh consumer awareness campaign by Moneysmart, aimed at empowering Gen Z individuals to quickly acquire fundamental financial knowledge and develop positive fiscal habits.
The study highlights the growing financial stress experienced by 82% of Australian Gen Zs (aged between 18 to 26). Nevertheless, this generation is also twice as likely as other age groups to demonstrate a strong desire to enhance their financial management skills as a means to overcome their financial pressures.
Challenges to Financial Well-being
Encouragingly, nine out of ten Gen Z individuals are determined to boost their financial literacy and confidence, despite facing a number of obstacles. The research indicates that almost half (49%) of financially insecure Gen Zs indicate feeling overwhelmed as the biggest barrier to achieving financial security, closely followed by not knowing how or where to start (42%).
Quick Learning and Social Media Appeal
Furthermore, the research unveils that Gen Zs prefer to acquire knowledge in the shortest time possible (77%) and are twice as likely as other generations to turn to social media platforms (56% compared to 23% of non-Gen Zs) for guidance and information on financial management.
Higher Debt Levels and Reliance on Credit Products
As per the research findings, Gen Zs typically possess higher levels of personal debt compared to other age groups, alongside a greater dependency on credit products. Key highlights of the study include:
Gen Zs carry an average personal debt of $8,188, exceeding non-Gen Zs ($6,730).
Approximately 21% (equivalent to 600,000 individuals) are burdened with personal debts amounting to $10,000 or more, with 4% (equivalent to 124,000 individuals) facing debts exceeding $50,000.
25% (equivalent to 720,000 individuals) have less than $1,000 in savings, including 8% (equivalent to 217,000 individuals) who have no savings at all.
Gen Zs are more likely to utilize Buy Now Pay Later (BNPL) services (28%) compared to non-Gen Zs (21%).
BNPL usage is also more prevalent in regional Australia, with 34% of Gen Zs in these areas utilizing such services, compared to 26% in metro areas.
Surviving Cost-of-Living Challenges
In response to the mounting pressure of the cost of living, Gen Z individuals are considering options like taking on additional or new employment opportunities (39%) to address their financial difficulties.
Published:Saturday, 18th Nov 2023
Source: financialservicesonline.com.au
Share this news item:
Finance News
Labor's Help to Buy Scheme: Addressing Symptoms, Not Causes of Housing Affordability


08 Dec 2023: .financialservicesonline.com.au

The Australian Housing Urban Research Institute (AHURI) raised concerns in a report last year suggesting that the $20 billion spent by governments over the past decade to assist first-time homebuyers had actually increased inequality and made housing less affordable. According to the report, these measures added to the demand and subsequently drove up house prices.

- read more
Business Insurance Price Rises Showing Signs of Slowdown


05 Dec 2023: .financialservicesonline.com.au

Rates across the majority of commercial lines are still experiencing increases, but the pace of the rise is starting to weaken, according to a recent webinar by actuarial firm Finity. The firm suggests that higher rate increases will be more targeted where necessary, while the majority of risks can expect more moderate rate adjustments in the upcoming financial year FY24.

- read more
The New Era of Financial Advice: Transforming Client Experiences


05 Dec 2023: .financialservicesonline.com.au

Advisers are no longer just financial experts, they are now at the forefront of providing transformative client experiences. This shift in the industry is predicted to bring about significant positive changes, according to professional VBP chief executive, David Carney.

- read more
---
Finance Articles
How Credit Card Balance Transfers Can Damage Your Credit Rating


Since the banks and finance providers have been castigated for the way they seemingly indiscriminately awarded credit to people who could ill afford it, the chances of being accepted for loans and credit cards have decreased. Concurrently, there is a greater focus on individual's being aware of how credit works and what their financial behaviors means in terms of a credit score and history.

- read more
Co-Signing Loans - Risky Business


There may come a time in your life when you are asked to co-sign for a loan or credit card. If this is the case, there are several things to consider before making a final decision. Technically, you are putting yourself at risk of damaging your own credit in the event that the loan goes unpaid.

- read more